At Nando's, there's always more to the story of what makes us who we are.
We believe the power of PERi-PERi chillies transforms people physically, emotionally, and socially. It makes our chicken what it is and shapes who we are as people. From how we farm our own PERi-PERi chillies in Southern Africa to transforming it into our bastings and sauces, from tangy lemon and herb to extra hot PERi-PERi it is made to fire up your mood and your senses with a flavour that's more than just heat. Click here for more PERi-PERi Stories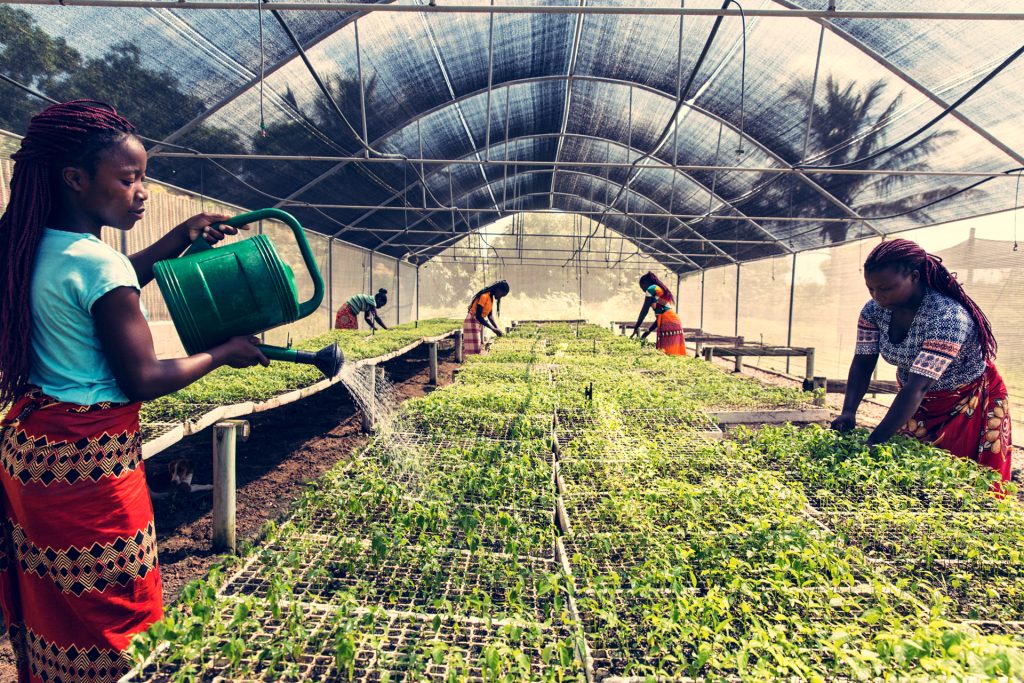 PERi-PERi Farms
---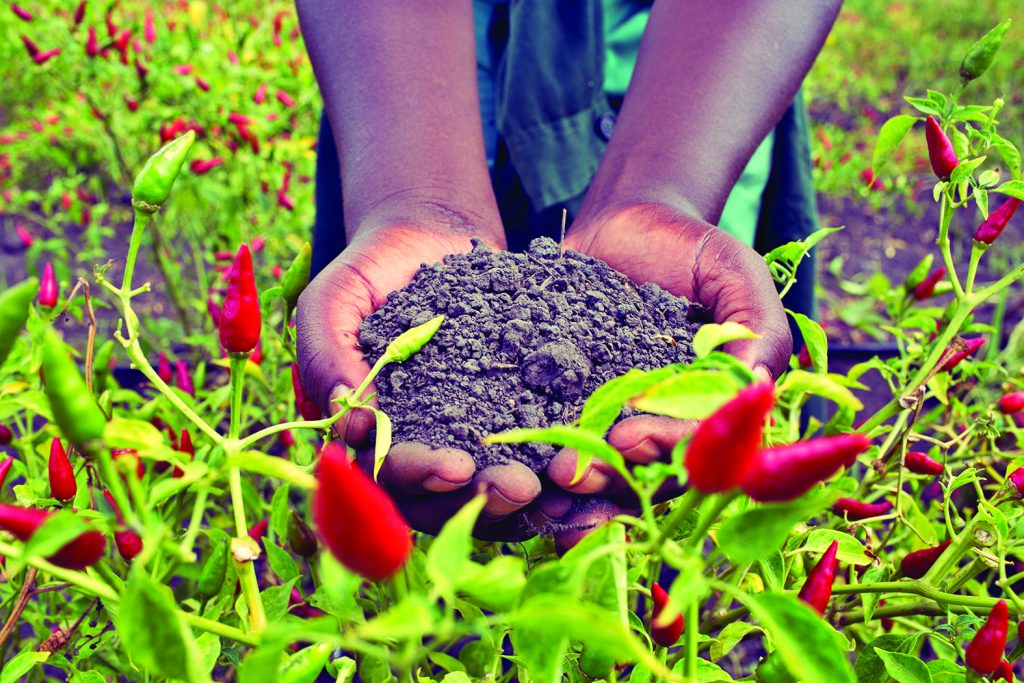 PERi-PERi Farms
---
When it comes to art, design and music, we're passionate about nurturing and showcasing Southern African creativity with the world in a way that makes a positive, meaningful difference.
The Nando's design speaks primarily to the visual senses – sight and touch. Our up-front grills and the unique taste of Nando's PERi-PERi pander to the senses of taste and smell, while our music enhances the sizzling sounds you hear in our restaurants. This is how we feed your burning desire to feel alive with anticipation whenever you're in our restaurant – through food, art, music, and ambiance.
Our Restaurants
One of the fascinating stories within Nando's is that of the beautiful art on display in our restaurants. It would've been easy to have rolled-out mass-produced décor and create 'one-look-fits-all' restaurants. But that wouldn't have been true to our roots. Instead, we believed that displaying original art and design from Southern Africa would remind us of our heritage and at the same time give Nandocas and the millions of customers who visit us each day, access to art and a taste of Southern Africa.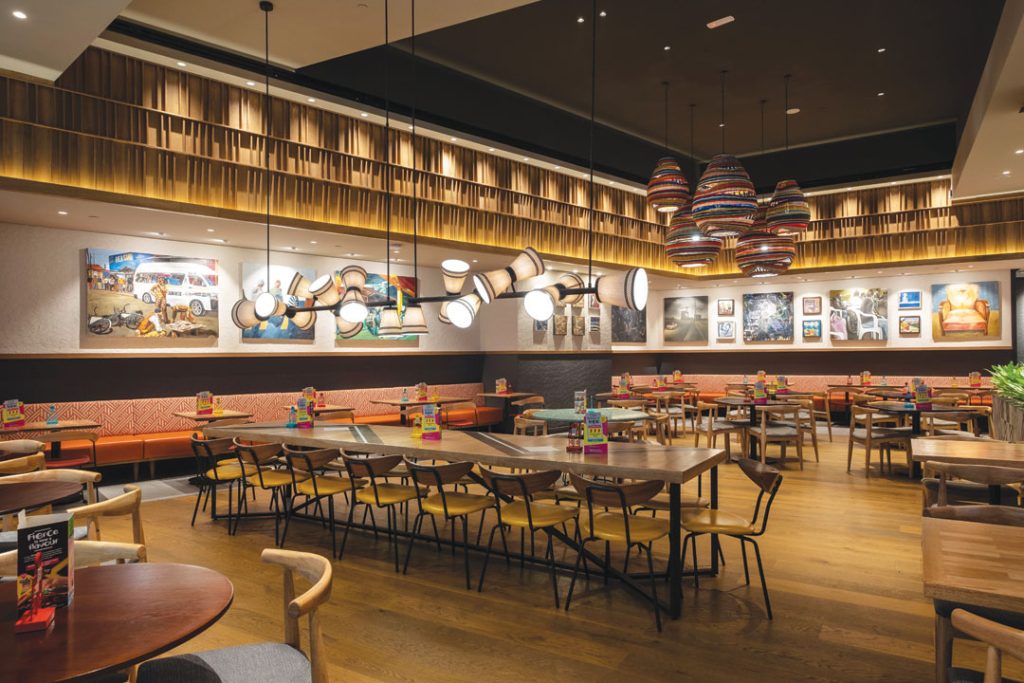 Nando's Pavilion Bukit Jalil
---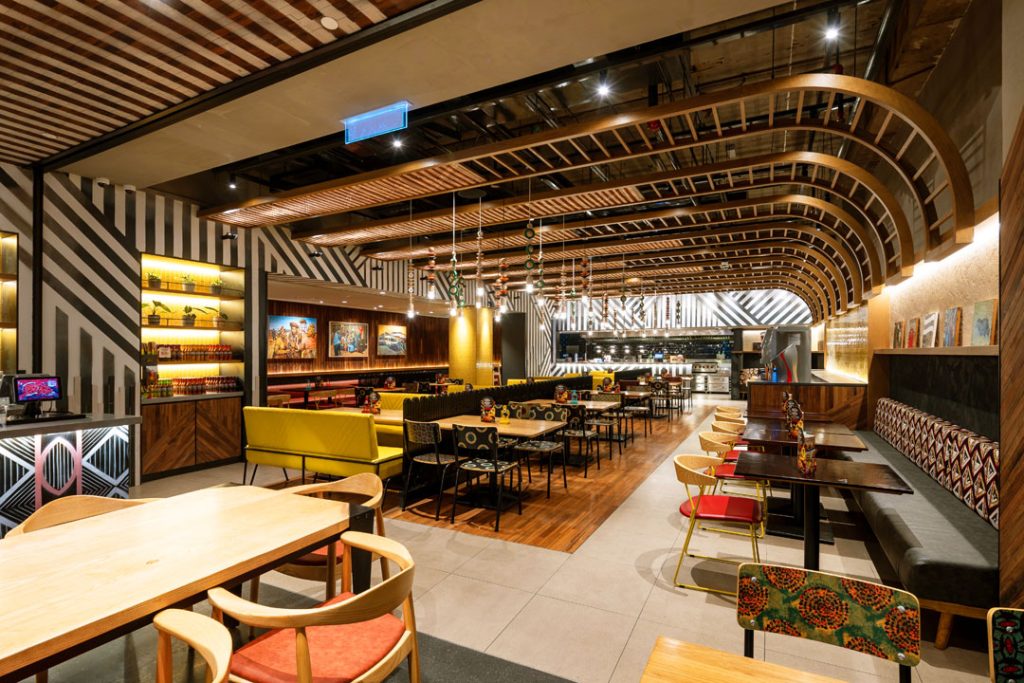 Nando's Sunway Pyramid
---
Our Art
Nando's has been investing in art and artist development since 2001. Today, the Nando's Art Initiative includes 5 different artist development programmes, and we support more than 350 artists on a regular basis. The artworks in our collection are displayed in 1200 restaurants across 24 countries.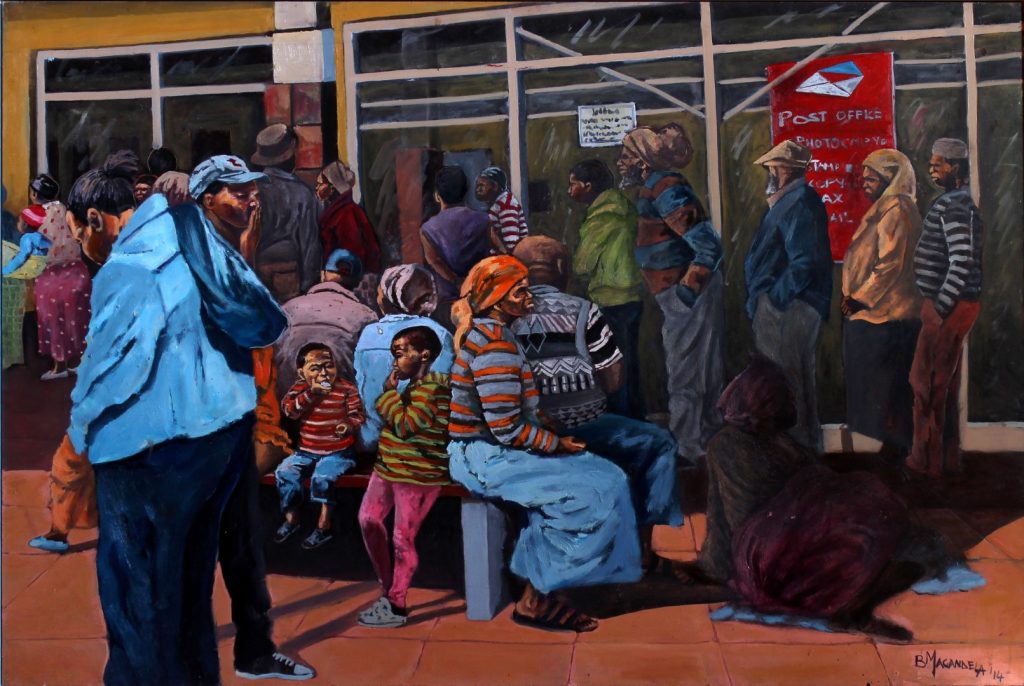 Our Design
Just like our art, the Nando's Design Programme also creates initiatives like Nando's Hot Young Designer; where it opens a door for undiscovered young South African design talent to join our heartfelt celebration of local design. These designers will then get to showcase their beautiful designs and potentially be included on the Nando's Portal to Africa – our global Nando's design procurement platform.
Thabisa Mjo, one of our Hot Young Designer's winners, is a designer extraordinaire with an old soul and innovative new ways to mash tech, aesthetic and tradition. Her design projects always begin with childhood memories; such as her winning Tutu 2.0 light that was inspired by the "xibelani" skirt worn by Tsonga and Shangaan women in Limpopo.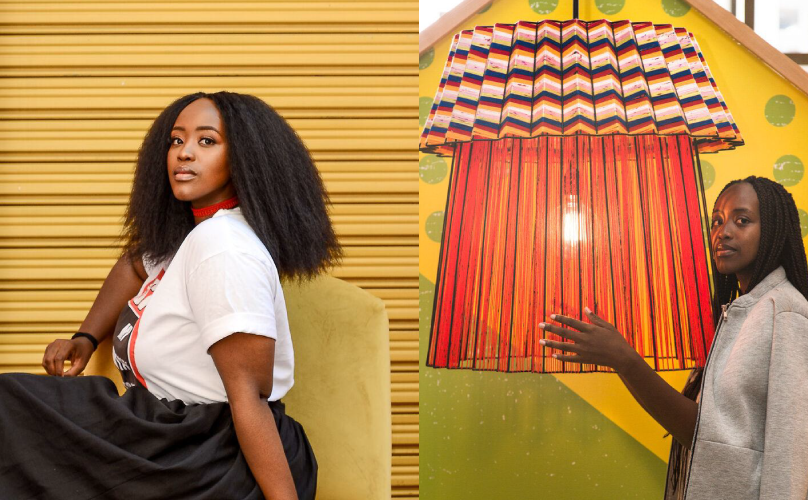 Bonolo Chepape, also one of our Hot Young Designers, is a 27-year-old Textile and Surface Designer and founder of the Décor and Textile Consulting studio, Lulasclan, all the way from a small dusty mining town of Rustenburg in the Northwest. Her philosophy is simple; turning Art into functional objects of beauty to use as vehicles in which to tell her story through patterns that embrace heritage and cultural difference. One of her design project, "I am Woven Pattern", is featured in Nando's Pavilion Bukit Jalil.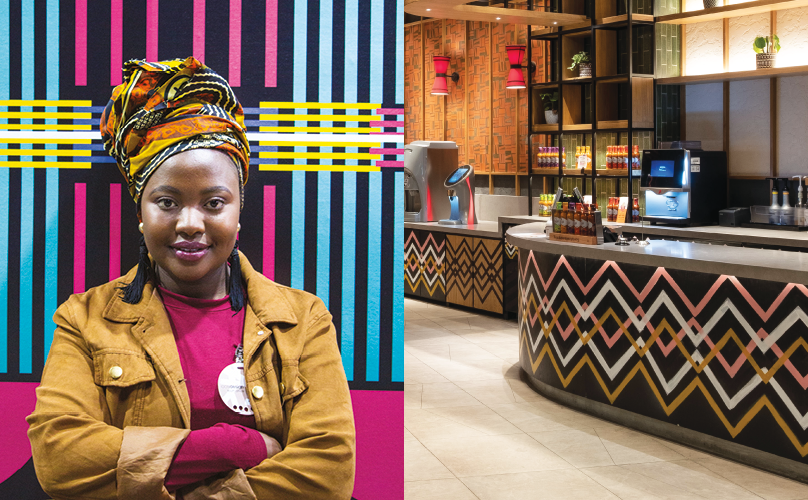 Our Music
Music is another element that has the power to move people, to convey emotion and to tell powerful stories, which is why it's the essence of a Nando's restaurant. Just like how PERi-PERi was founded by blending the cultures of Portuguese travelers who traveled to Southern Africa, our music too is a fascinating blend.
The blend was not just one-way – countries such as Brazil, Cuba and Puerto Rico where musicians merge African music, rhythms and dances travelled across the world too. From Africa the beat travelled to Latin American countries where musicians merged African rhythms with local flavours to create such lively styles as the Salsa, Rumba, Mamba and Cha Cha Cha. Click here for that great vibes.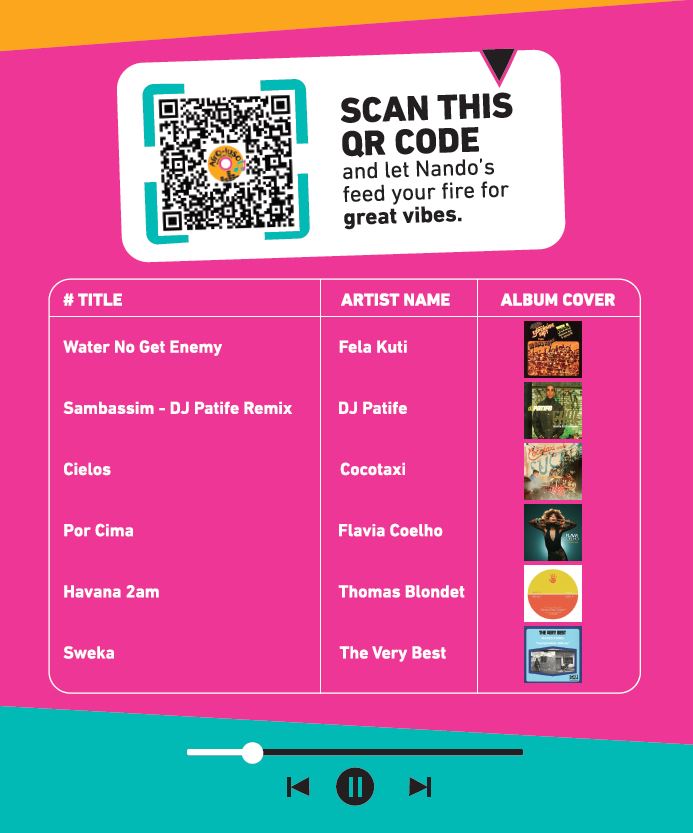 The Nando's experience is an adventure – we're multi-cultural, vibrant, exotic and we love nothing more than people gathering around our tables sharing delicious PERi-PERi, laughter and feeling right at home.
That's why for us, it's all about the details, bringing together design, music, food and people that's inspired by our South African roots and gives you a taste of our home. So, whenever you feel that burning hunger inside, you know you can count on Nando's to feed your fire.