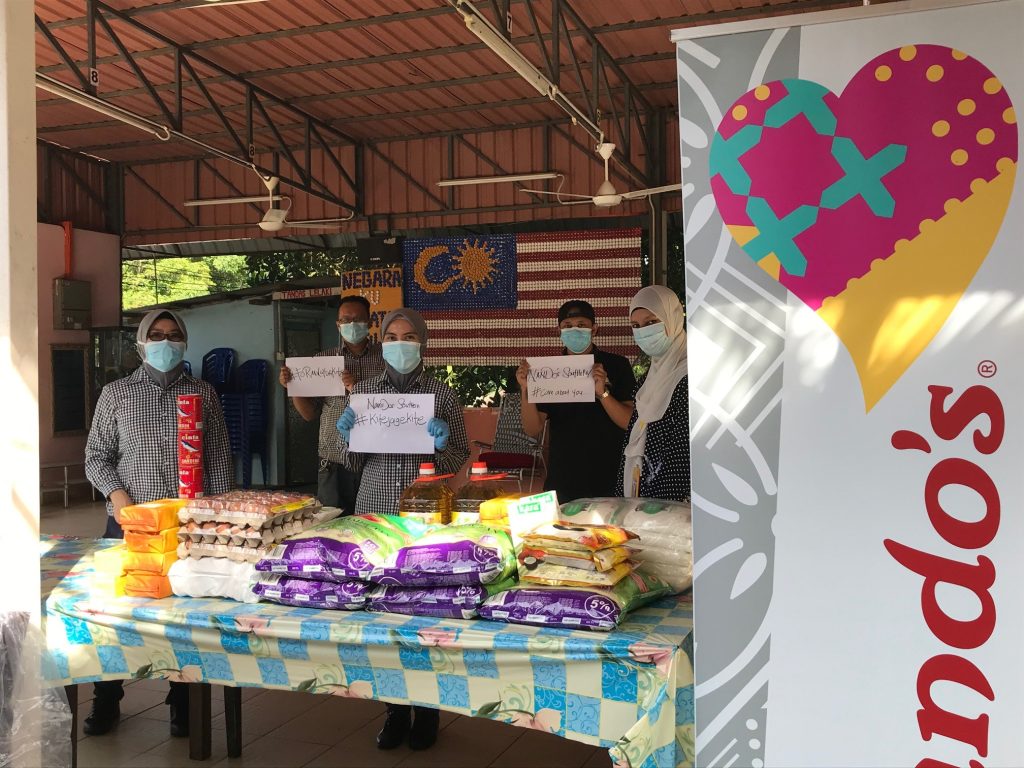 At Nando's, we believe kindness and compassion can truly unite us. And it's times like these that remind us to be grateful for what we have and to look out for the community.
This pandemic has shown us that when it comes to helping each other, we Malaysians are always ready to step up. When we started sparking kindness with our Chicken with a Heart initiative, we were fortunate enough to have helped thousands of Malaysians in need by working together with our charity partners to donate food. We continued to spread kindness by enabling others to do so too, with our Chicken Rewards initiative. In just the first two phases, 523 Loyalty Members came through and donated 1,356 ¼ chickens through our Nando's app.
The outpouring of generosity made us realise just how many of us are willing to help. And that's why we've teamed up again with our charity partners to create our new community support initiative, Kind Dining. Now it's even easier for everyone to give back to the community and fire up kindness everywhere.
Simply drop off any non-perishable food at any of our 73 Nando's outlets
Immediately enjoy 20% off your Takeaway or Dine-in bill
And our partners will help distribute your donations to those in need across Malaysia
We at Nando's feel privileged to be a part of this community effort where all of us can lend a helping hand to move forward as one. Let's all join in and do our part to keep the flame of hope burning, together.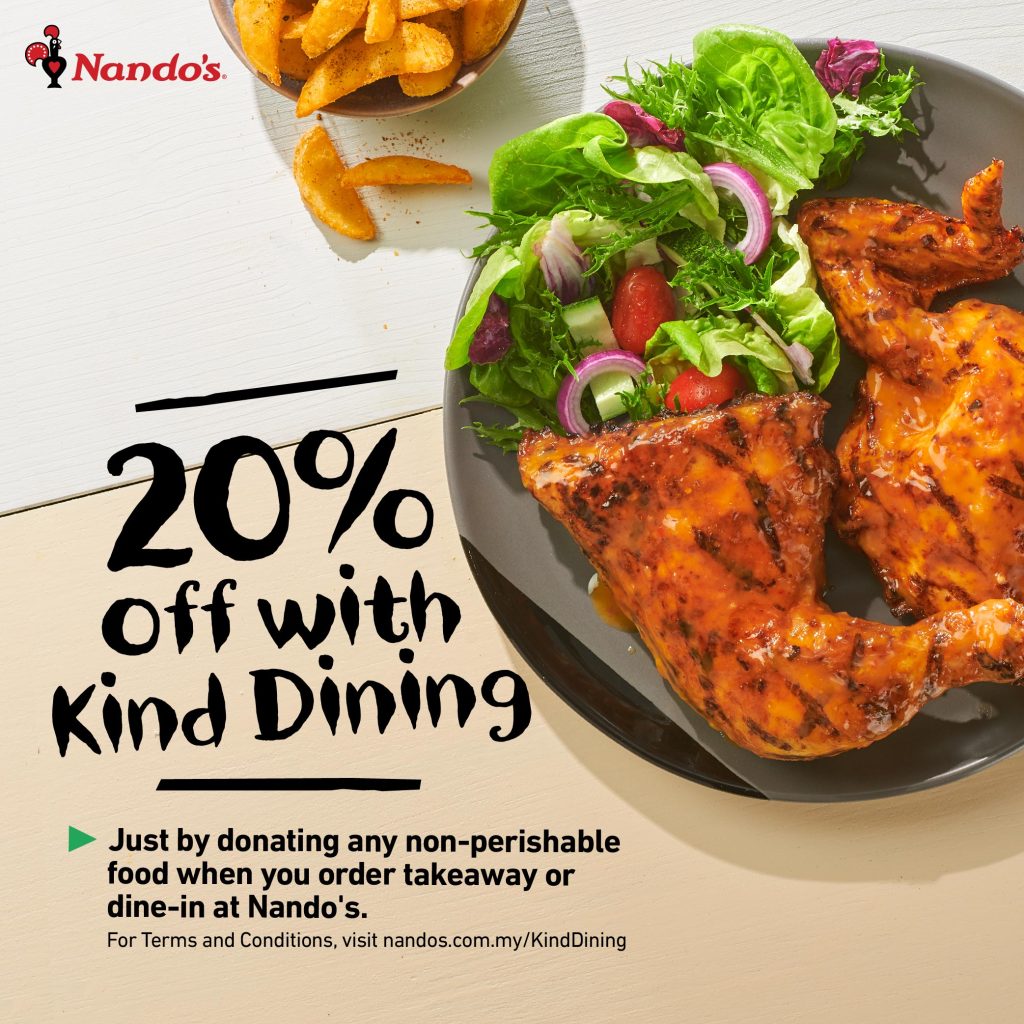 Terms & Conditions:
20% is applied to price before SST and Service Charge (dine-in only).
Offer of 20% (up to RM15) off the bill.
Valid from 15 May – 31 August 2020.
One redemption per transaction.
Customer may donate more than 1 item for each redemption – the more the better.
Redemption must be made in the same visit of donation.
Valid for dine-in and takeaway (including online order).
Donated grocery must be Halal.
Donated grocery should be of minimum 3 months expiry.
Donated grocery for each redemption must be within specified categories: Rice, Dry Noodles, Cooking Oil, Instant Oats, Sugar, Flour, Milk Powder, Canned Food, and Biscuits.
Donated grocery must be unopened and new in packaging.
Some of our partners for Kind Dining:
---
FAQs
Is there a limit to the amount of discount value I can enjoy for this offer?
Donor can enjoy a 20% off the bill up to maximum of RM15.
Can I donate more than 1 item?
Yes, you are welcome to donate any quantity you wish – the more the better.
Can I donate without purchasing any meals?
Yes, of course. We thank you in advance.
Do I need to match the value of donated items to the amount of the discount given?​
No need. You can donate any quantity and still enjoy the same discount. ​The more the better!
Can I donate item that is not stated in the list?
Unfortunately, no. The items listed in the T&Cs are what needed by our Charity Partners, so we will only accept items in the list.
Can I donate cash money instead? ​
No, we cannot accept cash. You may contact our Charity Partners directly if you would like to donate more than the recommended items listed in the T&Cs.
Who are your Charity Partners?
Our Charity Partners are as below:-
…and more!
---