Creamy PERi-PERi

Chicken Pasta
Prep: 5mins

Cook: 20mins
Indulgence has a name and it's Creamy PERi-PERi Chicken Pasta. Shall we get started?
INGREDIENTS
20ml PERi-PERi sauce (choose your flavour)
350g Penne pasta
150g cooked shredded Chicken
700g ripe Tomatoes, skinned and diced
4 Garlic cloves, lightly crushed
2 tbsp. fresh Basil, roughly torn
2 tbsp. Extra Virgin Olive Oil
200g Soft Cream Cheese
METHOD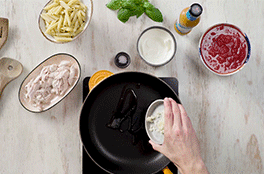 Step 1
Fry garlic in oil until golden brown. Remove from oil and save for later.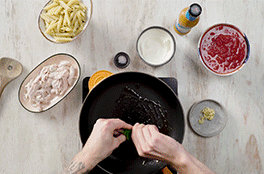 Step 2
Fry the basil in the garlicky oil for 30 seconds, then remove from oil and put it with the cooked garlic.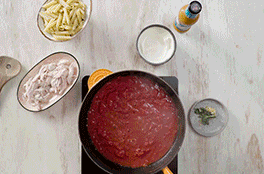 Step 3
Add the tomatoes to the infused oil, with a pinch of salt and cook over a high heat for 5 minutes. Add the PERi-PERi sauce, soft cheese and cooked chicken and simmer for 5 mins.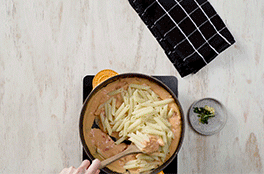 Step 4
Cook the pasta until al dente (or, as we normal people say 'until cooked'), in salted boiling water, drain and then add to the creamy tomato sauce. Mix in the precooked garlic and basil.